Friday, August 21, 2009
The Boston FM dial, circa 1970's.....
"From the top of the radio dial! All is well! W-W-E-L FM-108!"
Some may remember the Boston FM dial was a vastly different place in the 1970's.
Although, WAAF (is that really a Boston station?) is still there at the same place on the dial playing rock. WCRB is still playing classical music, albeit from 99.5 now. WPLM-FM is still at 99.1....WBOS is still at 92.9....both with different formats. WERS, WGBH & WBUR are still there in the same spots.
I have to think this card is from the
late
70's...because it lists 100.7 as WTTK.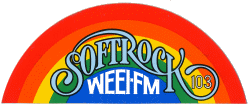 WEEI-FM was a hip soft-rock format. ("Cat Stevens without the dogs....")
WVBF was cleaning
WRKO's
clock with a FM stereo Top 40.
Their were
five

stations playing nothing but instrumental beautiful music.
WWEL, WJIB, WSSH, WJIB and WHAV-FM. (Mostly automated.) The 70's FM dial reminds me a bit of the current HD-2 channels/formats....mostly automated and music intensive.
Anyone remember 106.7 WBZ-FM? A funky automated rock format. (With no commercials!) WBZ-FM is now at 98.5 with a newly christened sports format.
Ah, the memories..... Was it a better time? ;-)
Comments:
I remember that WWEL card! I think I got one at a Radio Shack but lost it sometime...WTTK was indeed the calls for 100.7 at the time, not to be confused with the current WTKK 96.9, or the old WKKT 1510. Sometimes on discussion board people will refer to 96.9 FM Talk as "WTTK". Nope, it's WTKK; while WTTK was indeed a former incarnation of what is now WZLX.
Post a Comment
<< Home