Friday, August 28, 2009
Remember Richard Hatch...?
A string of bad luck, or bad decisions has him back behind bars.....after his recent release. The winner of the first season of the Reality show Survivor, also did the morning show
at the old Star 93.7.

Survivor contestant Richard Hatch arrested again
Tuesday, August 25, 2009
Red Sox will be on WEEI full time
WEEI
AM 850 says that starting August 26, all the Sox games will be on WEEI, rather than WRKO. This is no doubt a response to the presence of WBZ-FM 98.5, The Sports Hub, and to solidify WEEI as a sports station.
Before, Sox games aired only on Wednesday nights and weekday afternoons on WEEI. Now, WEEI will have all games, and WRKO's Howie Carr won't have his last half hour or so
pre-empted by "the very exciting Red Sox pre-game show". Instead of Youkilis home runs or Becket strike outs, WRKO will bring you Michael Savage.
Hopefully people will pick up WEEI fine after dark though there are sure to be pockets where it doesn't come in. Some people who work nights, like this reporter, will be in buildings where WEEI doesn't come in well. Not everyone will be pleased.
Friday, August 21, 2009
The Boston FM dial, circa 1970's.....
"From the top of the radio dial! All is well! W-W-E-L FM-108!"
Some may remember the Boston FM dial was a vastly different place in the 1970's.
Although, WAAF (is that really a Boston station?) is still there at the same place on the dial playing rock. WCRB is still playing classical music, albeit from 99.5 now. WPLM-FM is still at 99.1....WBOS is still at 92.9....both with different formats. WERS, WGBH & WBUR are still there in the same spots.
I have to think this card is from the
late
70's...because it lists 100.7 as WTTK.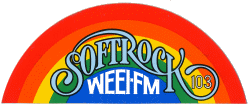 WEEI-FM was a hip soft-rock format. ("Cat Stevens without the dogs....")
WVBF was cleaning
WRKO's
clock with a FM stereo Top 40.
Their were
five

stations playing nothing but instrumental beautiful music.
WWEL, WJIB, WSSH, WJIB and WHAV-FM. (Mostly automated.) The 70's FM dial reminds me a bit of the current HD-2 channels/formats....mostly automated and music intensive.
Anyone remember 106.7 WBZ-FM? A funky automated rock format. (With no commercials!) WBZ-FM is now at 98.5 with a newly christened sports format.
Ah, the memories..... Was it a better time? ;-)
Thursday, August 13, 2009
Mix Moves...Sports Hub debuts....RIP: WBCN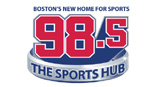 Boston's newest sports station (and only FM sports station) appeared today on the dial.
The Globe's Johnny Diaz has this from this morning's Globe:

Sports finds its place on FM radio
98.5 The Sports Hub ready to compete with WEEI, ESPN
Yesterday, Boston Sports Media Watch had this:

Shhh…Don't Tell Anyone, But The SportsHub Launches Tomorrow
And, in the last 24 hours
Mix 98.5 has moved to become Mix 104.1
....
and legendary WBCN has ceased to exist (except as an online/HD station).
The Globe's David Beard has this:
In final hours, WBCN rocks a farewell
Wednesday, August 12, 2009
WBCN signs off, Sports Hub to sign on
A few minutes past midnight on early Wednesday, August 12, 2009, WBCN ceased to exist as a broadcast radio station (they will technically continue on HD radio). DJ Bradley Jay finished it with Sinatra's "That's Life", Cream's "I Feel Free" (the first song WBCN played as an underground station, 3/15/68)and then Pink Floyd's "Shine On You Crazy Diamond". This was followed by a memory montage ending with the voice of the Cosmic Muffin, the late Darryl Martinie, saying, "Over and Out", and white noise.

They have been WBMX-FM technically for a little while now...and those calls were indeed given out a minute or so later..and two hours later, Mix 98.5 became Mix 104.1

The Sports Hub is to debut on August 13, around 6 a.m. allegedly. For now promos for the moved WBMX and the new Sports Hub are airing on WBZ-FM 98.5

So a legendary underground radio station, which came on when this reporter was six,
is now gone. During an early 70s live concert on WBCN by Canned Heat, one band member was heard to quote an old Hank Williams line--later picked up by WBCN's
Charles Laquidara--
"so we'll be back tomorrow if the good Lord's willin' and the crick don't rise".

No, they won't--not at least as we knew them.

Tuesday, August 11, 2009
Quiet Numbskulls I'm Broadcasting!
From one "Numbskull" to another...in the words of Moe, of the Three Stooges..
"Quiet numbskulls I'm broadcasting!"

Secret Service investigates host.

Secret Service Spaz-zes over radio comment
Friday, August 07, 2009
Looking back on radio's first big challenge: Television
Radio has known to be resilient. Wilmer "Bill" Cressman Swartley Jr. was the former general manager of WBZ. He recalls a time when radio faced a bigger challenge - and not only survived, but also learned how to thrive.
Swartley looks back on radio's first big challenge: television
"The moment television was announced as a reality, everyone immediately forgot about radio except for the newscasts," says Swartley, who was also a regional vice president of Westinghouse Broadcasting Co.

"Radio borrowed heavily, when it first came on air, from vaudeville," says Swartley. The soon-to-be centenarian recalls hearing Jack Benny and other comedians in his youth in Pennsylvania. But by the time he assumed the job of general manager at WBZ in 1946, following five years of Army service, Swartley says the medium had gotten more formal, with talk shows or radio plays, a concert every afternoon, and evening announcers in tuxedos.
Wednesday, August 05, 2009
GTM: An appreciation...
Several people forwarded to me a few articles about Geroge Taylor Morris that expounded upon his life more than the obit that I posted previously.
This first article is the recollection of someone who worked with GTM and some of what is was like to work at XM/Sirius radio.
I read the news today, oh boy.
The second article, a little more personal, is from the post...I will post it as a .gif pic, because I can't find the link on line. (I believe you can click the picure below to get a better view for reading.
Sunday, August 02, 2009
RIP: George Taylor Morris
I didn't know George Taylor Morris, but judging by the emails I have received, he was well liked. "GTM" (as he is affectionately known) did time at Boston's WCOZ, WZLX and WBOS. Most recently at Sirius/XM satellite radio.
George Taylor Morris, National Radio Music Personality Passed Away at His Home in Reston, Virginia, from Throat Cancer. He Was 62 Years Old
Saturday, August 01, 2009
What are your favorite "media things"....?
What are the new media things that you like?
Someone forwarded this column written last summer where
Jerry Del Colliano
shares some of his.
My Favorite Media Things