Monday, March 23, 2009
WNNW: The states first Spanish FM?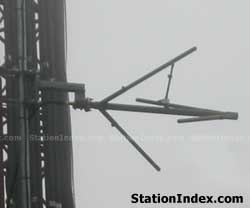 Is this a misuse of a
translator...?
Local Spanish radio station first in state to broadcast on FM dial
Is there really a need/purpose to put this programming on a limited FM signal where their AM signal is the strongest?
Scott Fybush writes:
Back in November, when Costa-Eagle paid $65,000 to buy translator W275BH (102.9 Newton, NEW HAMPSHIRE), we suspected that a move southward across the state line would be in the offing - and sure enough, it was.

W275BH's moves are a great case study in how the translator game is played these days, and here's how they were carried out:

First, Costa-Eagle found a friendly station to agree to be the nominal primary for its translator, in the form of WXRV (92.5 Andover). Then it took advantage of a quirk in the FCC rules that allows translators to move to frequencies 10.6 or 10.8 MHz away from their current channels as "minor changes," applying to move W275BH to 92.1, where it was granted (still licensed to Newton, NH) as W221CH.

The next step was to move the new W221CH to a new location - in this case, one with at least minimal overlap to the initial Newton facility's contours, and one that would meet the relatively loose criteria for second-adjacent interference to WXRV. What site met those criteria? None other than the tower on Chandler Road in Andover that happens to be home to Costa-Eagle's own WNNW (800 Lawrence).

With that construction permit granted (on Feb. 2), tower crews were on scene last week installing two Nicom antennas on the WNNW tower (in the aperture long occupied by the old WCGY 93.7), and the new W221CH was even heard testing, briefly.

But wait a second - what, exactly, does Costa-Eagle have to gain by putting a translator on the air for WXRV, well within that station's local signal area?

Nothing of course, and that's the one shoe remaining to drop in this whole scenario: the other application Costa-Eagle filed on Feb. 2, for special temporary authority to relay WNNW (instead of licensed primary WXRV) over W221CH, thus overcoming AM 800's long handicap of minimal night service to much of the Merrimack Valley.
Comments:
CRAZY... SO SAD, I TOTALLY UNDERSTAND THE NEED FOR THE SPANISH COMMUNITY TO HAVE ITS OWN FM STATION IN THE NEW ENGLAND AREA - (BOSTON / LAWRENCE / LYNN... AND SOME OF THE SOUTH SHORE.. Whatever Latina doesn't reach .... )
But unfortunately, it's the Spanish Merchants - Community itself that damages any opportunitites the market may have ... or may have had back... in the Mega Days.
These Merchants saw a drought, they were almost in a state of famine when their main source of Promotions (Radio) left the scene... yet... they were always looking to "scheme" "leach" ... get FREE ON-AIR PROMOTION... When they had it.
They took their medium for granted... Now Costa-Eagle is probably scheming to make some ... the money these same merchants cried about dishing out.
Instead of truly being smart business individuals and contributors to their community, bad-mouth and even went to the extent of... attempting to boycott their local stations...
What they don't know is that all these actions are repercussions of ... their own actions.
You Reap What You Sow..
Post a Comment
<< Home