Monday, March 30, 2009
More of Glick...
More samples of Glick's work (requires RealPlayer):
(from Northeast Airchecks)
Sunday, March 29, 2009
More Glick memories....
Here is another memory of Larry Glick.

WBZ was promoting their night show with Larry Glick recycling into their morning show with Dave Maynard when it gave us this TV commercial




Friday, March 27, 2009
Larry Glick has passed.....
Someone just sent mean email that says Larry Glick has passed away.
Nothing now, but I'm sure there will be more at:
www.WBZ1030.com
You might want to tune in or listen live on the internet, as I'm sure they'll be broadcasting tributes throughout the day...
UPDATE: Steve Cichon has posted some great memories and some audio clips at his website:
StaffAnnouncer.com
Steve also has some other great memorabilia at his website, you might want to check it out.
Wednesday, March 25, 2009
WEEI debuts on the Cape
Today at noon WEEI spread its sports radio to the Cape with the debut of
WEII-FM 96.3, formerly WRZE "the Rose" (a hit radio station). The powerful
FM signal reaches all of the Cape and some off-Cape areas like Plymouth County
as well. Too bad their listener "Butch from the Cape" isn't around to enjoy
the clearer signal.
The station is now heard on a total of 10 stations in Mass., N.H., Maine, and
Rhode Island (also reaching the other two New England states, as their signals
in Keene NH, Springfield MA, and Westerly RI cross those state lines)
Monday, March 23, 2009
WNNW: The states first Spanish FM?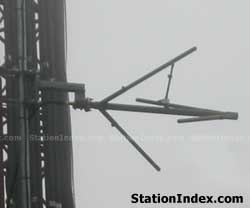 Is this a misuse of a
translator...?
Local Spanish radio station first in state to broadcast on FM dial
Is there really a need/purpose to put this programming on a limited FM signal where their AM signal is the strongest?
Scott Fybush writes:
Back in November, when Costa-Eagle paid $65,000 to buy translator W275BH (102.9 Newton, NEW HAMPSHIRE), we suspected that a move southward across the state line would be in the offing - and sure enough, it was.

W275BH's moves are a great case study in how the translator game is played these days, and here's how they were carried out:

First, Costa-Eagle found a friendly station to agree to be the nominal primary for its translator, in the form of WXRV (92.5 Andover). Then it took advantage of a quirk in the FCC rules that allows translators to move to frequencies 10.6 or 10.8 MHz away from their current channels as "minor changes," applying to move W275BH to 92.1, where it was granted (still licensed to Newton, NH) as W221CH.

The next step was to move the new W221CH to a new location - in this case, one with at least minimal overlap to the initial Newton facility's contours, and one that would meet the relatively loose criteria for second-adjacent interference to WXRV. What site met those criteria? None other than the tower on Chandler Road in Andover that happens to be home to Costa-Eagle's own WNNW (800 Lawrence).

With that construction permit granted (on Feb. 2), tower crews were on scene last week installing two Nicom antennas on the WNNW tower (in the aperture long occupied by the old WCGY 93.7), and the new W221CH was even heard testing, briefly.

But wait a second - what, exactly, does Costa-Eagle have to gain by putting a translator on the air for WXRV, well within that station's local signal area?

Nothing of course, and that's the one shoe remaining to drop in this whole scenario: the other application Costa-Eagle filed on Feb. 2, for special temporary authority to relay WNNW (instead of licensed primary WXRV) over W221CH, thus overcoming AM 800's long handicap of minimal night service to much of the Merrimack Valley.
Wednesday, March 18, 2009
Don Imus hits nerve with shoot 'joke'
More on the dustup between Severin and Imus
WTKK Host Fired Up Over Threat
Tuesday, March 17, 2009
No Kisses for Severin!
At WTKK's annual "Kiss Me I'm Imus" event today at the Wilbur Theater, "the cantankerous talk show host gave local radio yakker
Jay Severin
the smack down!"
The Globe's "The Names Blog" has the details:

Imus boots Severin from stage
Friday, March 13, 2009
Severin and Imus....
You might recall last fall
WTKK's Jay Severin
publicly
"asked not to be invited" to appear again on the Imus in the Morning program,
after what he perceived as an on air slight. (I seem to recall he had
a public rebuffing of Emily Rooney after another perceived slight.)

Imus
is coming to Boston again Tuesday, to do his St. Patrick's Day broadcast, as part of WTKK's
"Kiss Me I'm Imus" event.
Other hosts from WTKK usually appear at the event and on the air.
Will Don Imus ask Jay Severin?
Radio hosts at odds over St. Patrick's show invite
(Also at the above link, more on WTKK's Michal Graham and his drivers license and registry issues. the original license/arrest/registration story is here...

And if there aren't enough links already in this post ;-) here is WTKK's home page.
Wednesday, March 11, 2009
Did you hear U2 did a Boston concert...?
How could you not? Every station in town appeared to be giving away tickets!
U2 mystery concert a boon for radio
Saturday, March 07, 2009
Recall Tom Leykis?
Tom Leykis had a rocky stay in Boston. He was the first "wise-ass" talker that
WRKO
hired following the glory years of
Jeghelian,
Burns,
Williams
and
Brudnoy.
(By "wise-ass", I mean the first generation of talker at WRKO to use the word "sucks" over and over.)
After the gals from the
Inside Track
wrote about him once, he decided to rip into them on the air, referring to them as fat, etc. Bad move! You don't pick a fight with the Inside Track!
You might recall he had a public incident of drinking a little too much at the WRKO Christmas Party...then went home to have
an altercation with his wife in which the police were involved.
The gals from the Inside Track wrote about this as "Tom mistook his wife for a yule log" when he shoved her into the fireplace or some such nonsense.
Tom went on to work at an FM talker in LA
and
his show was syndicated.
(How do people who were fired go on to better jobs?) While his show was considered successful by the syndicator, it didn't seem to be widely cleared.

KLSX recently changed format...
and it appears that means the end of his syndicated show as well.
He recently talked to the Orange County Register about the format flip and being dropped at KLSX.

Tom Leykis talks about leaving KLSX
Some place Tom Leykis at the front of the line that began WRKO's long demise
Friday, March 06, 2009
So long CSB......!
-
One of the long standing technical schools for hopeful broadcasters has closed down.
CSB was founded by Dick Robinson, longtime Hartford DJ.
Without notice the
Connecticut School of Broadcasting,
with 26 locations closed down yesterday.

Conn.-based broadcasting school shuts down
Is it me...or had the tuition gotten wayyyyy out of whack?
$12,000 for a 16 week course?
Dick Robinson claims the school will re-open at least in one location. Dick has a non-compete still in effect, but the school may be resurrected by his daughters who are not covered by a non-compete.
Here is more from the local paper in Connecticut:
Founder Of Broadcasting School Vows To Reopen Farmington Branch
Here is the wikipedia entry on CSB:
Connecticut School of Broadcasting
Dick Robinson has had a colorful life, and now does a syndicated show from his yacht in Florida. Lucky him!
More about Dick and his yacht:
American Standards by the Sea
Thursday, March 05, 2009
Thanks WFNX...!
WFNX has been giving away tickets to it's annual "Goth Ball".
WFNX cancels said event.
Does WFNX let these winners know that these tickets they "won" are now worthless?
Oh, Cruel World!
Can you imagine showing up at Hurricane O'Reilly's dressed up like your inner goth fag? Nothing like getting your latex-wearing ass kicked by a bunch of drunken jocks or frat boys on the streets outside the Banknorth Garden. It's not that I could give a crap whether or not I go to your stupid goth ball. Just get your heads out of your collective ass, please.
Wednesday, March 04, 2009
Pirate operator walks for his cause....
I hate to bring more (any) attention or legitimacy to pirate operators. But since this was in the news, I thought I would post on it.
Charles Clemmons is the operator of "Touch 106.1"...which
claims
to be running only 100 watts. (Local radio people will tell you different.)
He is planning a walk across America to call attention to the issue of low-power FM.
The Globe's Adrian Walker had this column:

Tuning in to his mission
The battle over greater access to the airwaves has been waged for years. Legislation calling for low-power FM stations has been bottled up in Congress since 2000, but advocates are hoping that the Obama Administration will prove more receptive to the idea.

Touch 106.1 has been the subject of several visits from federal officials and has been fined a total of $17,000.

"They say our signal interferes with airplanes," Clemons said. "We're a 100-watt station. You can't hear us down on Dudley."