Wednesday, January 31, 2007
WRKO in transition.....
Monday, January 29, 2007
Air America Sold!

...Franken to leave...
Air America is to be taken over by a
Real Estate Developer...
Can they survive without Franken?
Air America Radio in tentative deal to be sold; Al Franken to depart...
"The agreement with Stephen Green, the founder and chairman of SL Green Realty Corp., appears to rescue the struggling network, which has been seeking a buyer since last fall when it filed for bankruptcy reorganization after reaching an impasse with one of its creditors."
Rescue?
Sounds like an infusion of some cash to pay off creditors....but will the flawed business plan change?

The network said in a statement that Franken's last day on the network would be Feb. 14, and that his 12pm-3pm ET time slot would be taken over by Portland, Ore.-based talk show host Thom Hartmann.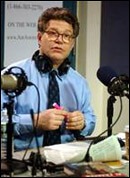 In the past, Franken provided so much free publicity for them.
Will they be invisible post-Franken?
Saturday, January 20, 2007
Jim Boyd moves to the internet.....
Wednesday, January 17, 2007
Drinking in the college radio studio....?
Monday, January 15, 2007
The River runs wide.....
Saturday, January 13, 2007
Guilty? ...Then you're hired!
Tuesday, January 09, 2007
Nice work, if you can get it.....
Thursday, January 04, 2007
Some tidbits.....
Tuesday, January 02, 2007
New lineup for FM Talk....