Thursday, September 07, 2017
August Boston Radio Ratings
Thursday, August 03, 2017
Changes in The World....
Sunday, July 23, 2017
Boston Sports Radio Primer....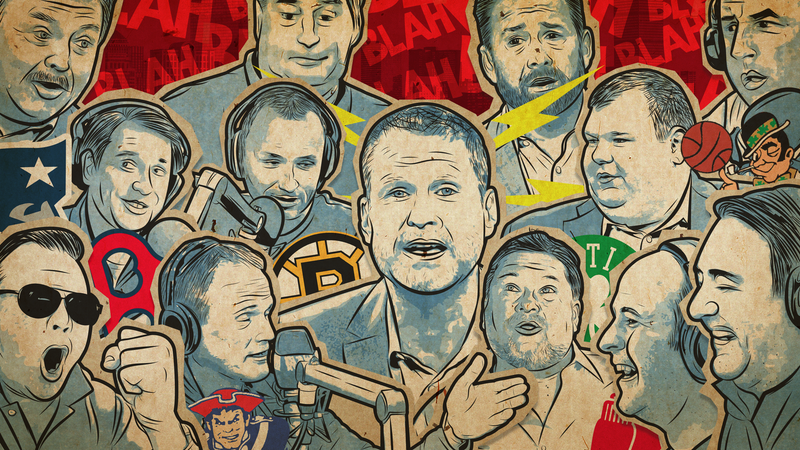 Ladies and gentlemen....from Deadspin, we bring you this primer on Boston sports radio....
A Field Guide To Boston Sports Radio Chowderheads
"Every day, it seems, a different Boston sports radio dipshit is delivering a take from a time when segregation was acceptable, getting attention for being five seconds away from challenging a listener to a parking lot fight for Tom Brady's honor."
Friday, July 07, 2017
WMEX off the air....maybe for good?
Saturday, June 24, 2017
May Ratings
Wednesday, June 14, 2017
Problems with radio ratings...?
Tuesday, June 06, 2017
WBUR/WGBH...Airwaves War! ;-)
Monday, November 21, 2016
RIP: Leonard Mailloux
Friday, October 28, 2016
Double the Christmas Music this year?
Tuesday, September 06, 2016
Jay Severin...back on the beach...?
Saturday, August 27, 2016
More on John Dennis leaving WEEI.....
Monday, August 22, 2016
John Dennis out at WEEI....
Sunday, July 24, 2016
Beasley gobbles up Gr. Media and their Boston Stations....
Friday, July 01, 2016
Bob Crane's Audio Letter To Cousin Jim Senich – 1963
Monday, March 07, 2016
Remembering WVCA.....
Monday, January 11, 2016
An old tape of....WMEX 1963
Saturday, December 26, 2015
How A 1930s Radio Show Created Its Sound Effects
Tuesday, December 01, 2015
A guest in my studio.....is to be treated like a guest in my home." -Dan Rea, WBZ
Saturday, November 21, 2015
Cumulus
Monday, November 16, 2015
The First FM Construction permit was issued to....W1XOJ Boston!
Tuesday, November 10, 2015
Glenn returns and explains his cancer scare, 11-09-15
Monday, November 09, 2015
Does the public know what programs are infomercials?
Monday, November 02, 2015
WJOB/WJTO..The original one-man band! ;-)
Wednesday, October 21, 2015
Hoping to get 'Voice of Cape Ann' back on the air...
Tuesday, September 22, 2015
RIP: 'Bruce Arnold' Salvucci...
Friday, September 11, 2015
On Point.....with WBUR's Tom Ashbrook
Monday, August 31, 2015
Easy Listening....Still on the Air......
Friday, August 07, 2015
Talk Radio's Advertising Problem?
Tuesday, July 28, 2015
Conservative Media in Liberal Massachusetts
Tuesday, June 30, 2015
WEEI suspends morning show host Kirk Minihane....